Name: Muha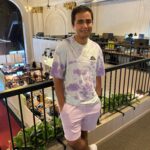 mmad (Esa) Adil
Major & University: Electrical Engineering major at the University of Maryland, College Park
Career Goal: My internship at Key Tech has been teaching me a lot about practical electrical design as well as the importance of testing those designs. In addition to that, I have also had the opportunity to learn the different types of CAD software that are used in the electrical engineering process (like Altium). I think that this internship has given me the building blocks that I need to become a well-qualified engineer who will eventually be able to lead engineering teams in the future for developing new and exciting products. No doubt that it will require a lot of experience, but I think that this is a great first step towards that.
What is the culture like at your internship site?
The culture at Key Tech is really chill. You can wear casual clothes to work, there are dogs in the office (the best part in my opinion), and you can approach anyone for help any time and they'll always be there to help you out.
Who are the clients that you work with? 
Key Tech's work is highly confidential since it is pre-commercial for clients in the MedTech space. The devices Key Tech designs range from large testing platforms operated by trained staff in a lab to handheld devices used at home by a consumer.

Are you working on any exciting projects you'd like to share? Have you learned any exciting new skills that were unexpected?
I am working on the same projects as other full-time engineers, so I don't have a specific intern-only project for the summer. I think that working on the same projects as everyone else is great because it allows you to collaborate with everyone. The projects themselves are confidential, but Key Tech's website should give a good idea about what we work on. One (somewhat) unexpected skill that I have learned is reading datasheets. I used to think that reading a datasheet is simple (you just have to read, right?), but I found out it is more involved than that. You need to know how to distill the relevant information and how that information can be used towards your design.
How did you find your internship? Did you use a career center for help with your resume?  
I found Key Tech's internship position through an information session they held at my college. While I did not use the career center before I applied to Key Tech, I had utilized UMD's career center's services on getting my resume critiqued in the previous years.
How did you prepare for the interview? Can you share any tips for fellow students? 
I prepared for the interview by refreshing my knowledge on circuit analysis and looking over my previous circuit theory notes. I think that the key to do well in technical interviews is to lay out your thought process as clearly as you can and ask the interviewer any and all clarifying questions that you have to solve the given problem. Assume that you are already working for the company you are interviewing for and imagine how you would solve the problem if you encountered it on the job.