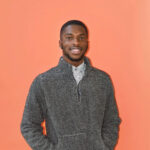 Name: 
Peter Iwuh
Major and University:
Strategic Communication
Morgan State University
Career Goal:
This internship has exposed me to creative ways of communicating important messages to a large audience via social media, this aligns with my career goal of assisting top organizations creatively communicate directly with Gen Z with update content strategies and activations.

1. What is the culture like at your internship site? (big, small? Can you wear jeans? Is it fast paced?)
Great experience thus far! The Healing City Baltimore team does a great job with organization and communication to make sure I have everything I need to execute my ideas. I also love the fact the the team is open to my ideas and love to see the execution! I do well in spaces where my ideas are welcomed and given a chance where it makes sense! It's amazing to see some of my ideas come to life and exceed expectations
2. Who are the clients that you work with?
We serve the community of Baltimore City.
3. Are you working on any exciting projects that you want to share? Have you learned any exciting new skills that were unexpected?
We're currently rounding up our Youth Takeover activation!
There are many amazing youths on the team who play vital roles and I thought it would be a great idea to showcase the young minds behind the planning of such a unique event! With 4 videos done, we're at 5,000 Instagram Reels views! Super excited to give the youth the platform to share their voice!
4. How did you prepare for the interview? Can you share any tips for your fellow students?
– Study the organization WELL! Look up websites, socials, past press, watch vidoes, look up team on LinkedIn. STUDY! STUDY! STUDY! It's evident if you don't know about the organization on the interview.
– Be sure to understand how your current skillsets and/or career goals align with the experience the internship provides
– Be yourself! Don't say anything you can't back up ! Say what you know you can do, what you're improving on, or what you're currently learning!
5. How did you find your internship position? Did you use a career center for help with your resume?
My school advisor – Dr.David Marshall
6. Please share anything that you think makes a strong remote internship. 
– Great organizations of tasks
– clear communication
– check in meetings
– physical gear to feel apart of what's being missed due to Covid !