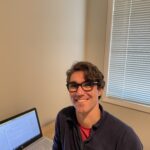 Name: Matthew Smeriglio
Major and University: Masters of Public Policy (MPP), University of Maryland, Baltimore County
Career Goal: I hope to hone my skills in data analysis and use them in the public sector to help create and implement effective policies. Working with the Department of Information Technology's Geographic Information System Office has given me plenty of real-world experience with some of the analytics tools professionals use.
1. What is the culture like at your internship site? (big, small? Can you wear jeans? Is it fast paced?)
The Geographic Information Systems Office knows how to keep the balance between being laid-back and staying industrious! Working from home and wearing jeans are encouraged, but never at the expense of productivity. Not only that, but the office has a staff of the kindest, funniest people I've ever had the pleasure of working with.
2. Who are the clients that you work with?
Our clients are stationed at many different agencies at varying levels of government, and we act as the administrators for a number of different tools that they might find useful in their services to Marylanders. Those tools are good for storing machine-readable data, tracking trends and finding insights in that data, and creating digital maps for these government entities to post to their websites.
3. Are you working on any exciting projects that you want to share? Have you learned any exciting new skills that were unexpected?
Yes! Right now, I am writing the entire Annual Report (with some guidance and help from my supervisors, of course) for the Open Data Council to present to the governor's office in January.
Going into this internship, I expected to have an opportunity to flex my writing and data analysis muscles, but I was also pleased to find out that this is an excellent opportunity to make myself even more tech-savvy by learning programming languages like Python and SQL.
4. How did you prepare for the interview? Can you share any tips for your fellow students?
I try to prepare for interviews by going online and finding lists of common interview questions, then writing down my answers ahead of time. It helps jog my memory about what some of my past achievements have been, and that gives me something to talk about during the meeting
That said, if you only remember one piece of advice from me, I want it to be: confidence is key! Never be ashamed to talk about your successes.
5. How did you find your internship position? Did you use a career center for help with your resume?
I was lucky enough to find mine pretty easily on the UMBCWorks site by searching for any position with the word "data" in it. And I have the career center to thank for helping to trim the fat from my resume.