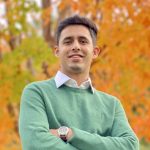 Sukoon Sarin, Master of Engineering in Robotics, University of Maryland College Park

Career Goal – how will this  internship move you closer to your career goal?
This internship has given me opportunities to hone my skills that I gained during my Masters,
such as ROS, computer vision, embedded systems and software development. Developing a
complete software package to integrate an optical flow sensor used in our in house drones,
benefited me a lot in gaining hands-on experience with UAVs, embedded systems, sensors and ROS driven programming. We use Agile software development practices to achieve a high degree of collaboration and transparency and this has broadened my experience and skills in professional software development.
My career goal is to work on robotics especially in computer vision and embedded software development. And develop both software and hardware for autonomous systems with high
levels of intelligence and autonomy.
1. What is the culture like at your internship site?
At Airgility, where I intern, the culture is fast paced yet team oriented and collaborative. The team is small, albeit growing. The casual and comfortable nature of our company's culture builds a sense of oneness in each employee that allows each intern and full-time employee to passionately work together towards excelling at developing state-of-the art technology.
2. Who are the clients that you all work with? 
We create aerial robotics with the greater goal of public safety. Our clients include a variety of governmental and commercial agencies, primarily focused on practices surrounding search and rescue, disaster management, security, defense. Some of the clients include National Sciences Foundation SBIR, Department of Homeland Security.
3. Are you working on any exciting projects that you want to share? Have you learned any exciting new skills that were unexpected?
One exciting project I am working on is the integration of an Optical Flow Sensor with our in-house unmanned aerial vehicles. By developing software from scratch to dealing with embedded hardware, I have gained some great skills. During the course of working on this project, I learned different vision techniques, handling low level software in platforms like Linux and gained some new skills in ROS by converting my developed code into a ROS node which was exciting. By managing version control of my ROS nodes, I acquired some new git skills as well.
4. How did you prepare for the interview? Can you share any tips for your fellow students?
I brushed through all the core concepts and topics specific to my interest and the position I applied to, like computer vision and embedded software development; Along with getting thorough with the concepts in Robotics that were essential for the interview. I had my Github and past work that I did handy, along with my professional and academic projects to present to the recruiters.  I would advise to always be positive, confident and honest in your interviews. And highlight the projects related more to the job you applied for.
5. How did you find your internship position? Did you use a career center for help with your resume?
I found my internship position by applying through the company's application portal and getting a referral by networking. Yes, I did receive help from the Career Center for my resume. They helped me make few changes to it, and make it look more professional.
6. Please share anything that you think makes a strong remote internship.
The key to a seamless internship experience is proper communication. Constantly communicating with your manager to be on the same page about expectations is very important. Airgility too has maintained a transparent and well rounded communication platform with me over the course of my internship through one-on-ones, regular all hands which enabled me as an intern to feel like a valued member of the team. Platforms like slack keep your team in touch constantly where you can share professional and personal ideas.