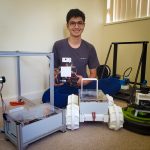 Name- Toyas Jitendra Dhake

Major & University or College- Master of Engineering Robotics, University of Maryland
Long Tearm Career Goal: This internship experience taught me and gave me hands on industrial experience in ROS, designing robots from mechanical and electronics perspective, and navigation and autonomous maneuvering. So from a roboticist's perspective it is comprehensive experience, getting to do all phases of robot development from scratch. My career goal is to work on swarms of autonomous robots and thanks to John Crupi, CEO at Kick Robotics we are working on the exact same concept. We are developing swarms of low cost robots to do environmental monitoring. 

What is the culture like at your internship site? 
Kick Robotics, LLC is a small startup. It is really beneficial to work on-site where everyone can share and discuss their ideas face to face but due to the current pandemic we are working from home. We use agile model to design and develop our robots, use ClickUp to keep track of everyone's work and milestones and Slack to communicate. It is a fast pace, as we are designing the robots from ground up we keep testing and making incremental improvement to them.
Who are the clients that you all work with? Who is the end user?
Little Falls Watershed for water quality monitoring, Shipping Warehouses for surveillance of warehouses.
Are you working on any exciting projects that you want to share? Have you learned any exciting new skills that were unexpected?
I have been working here for a year now, so my role has changed a lot over time. Initially, I worked on a land robot to take soil samples and traverse unknown environments autonomously. Right now, I am working on 2 robots, one amphibious robot for water quality testing and a land robot for warehouse monitoring. The amphibious robot is really interesting. It has a house where it can go and charge itself and it is attached to the house by a reeling mechanism which will activate if the robot gets stuck in water.
I have a computer engineering background, I had knowledge for robot design from mechanical perspective but during my internship I got thorough knowledge about it and manufacturing specially 3d printing technology.

How did you prepare for the interview? Can you share any tips for your fellow students?

I did my undergrad in computer engineering and was part of my college's robotics team for 3 years. My position had pretty similar responsibilities so I was confident. For fellow students I would say look into the company profile and their work. Prepare for behavioral questions along with technical ones. Specifically for position like mine you should have strong ROS and hardware experience.
How did you find your internship position? Did you use a career center for help with your resume?

I found it via LinkedIn.
Please share anything that you think makes a strong remote internship.
To be honest it is really difficult to do remote work in robotics because you need to have the system in hand to make modifications or debug for error. But few things made the internship at Kick Robotics a strong remote internship. The issue of having access to the system was not there because we are developing swarms of low cost robots, everyone had one version of robot with them. And the work time is also really flexible. Really the best part is that we are given full freedom on how to reach the set milestone within the constraints of the system.