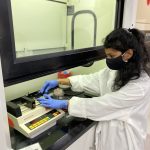 Chaitali Prashant Shah, MS Pharmaceutical Sciences & University of Maryland, Baltimore

Career Goal – how will this  internship move you closer to your career goal?
This internship gave me a direction about what I would like to pursue as career goal. The kind of work that I did inspired me to pursue a similar career as I enjoyed working. Also, my supervisor and the team that I worked supported and motivated me at each step. Today, all my hard work has payed off as I have 3 job offers before I graduate.
1. What is the culture like at your internship site? 
3idx is a small company. The dress code in the company is casual as they just want us to be comfortable while working. It is not fast paced. As it is start-up, so things are at medium paced.2. Who are the clients that you all work with? Who is the end user The end user of the product will be hospitals and laboratories worldwide.
2. Are you working on any exciting projects that you want to share? Have you learned any exciting new skills that were unexpected?
Yes, the project that I worked on was very exciting. The company has developed a novel technology called Biospectrix that detects bacteria directly from blood within one hour. My project was to assess various performance evaluation parameters like Limit of Detection, Effect of freezing and blood volume for Biospectrix. I learned several molecular biology and analytical techniques throughout the course of internship. The biggest takeaway from the internship was learning skills like communication, critical thinking, trouble shooting and teamwork.
4. How did you prepare for the interview? Can you share any tips for your fellow students?
My way to prepare for interview is the following:
Have thorough knowledge about your resume meaning know everything that's there on it.
Do some basic research on the company and the position.
If you establish a connection with somebody that works in that company, ask them for the tips or try to gain information about the organization or position in which you are applying.
5. How did you find your internship position?
Everyday, I researched companies in my industry and I applied for positions on their websites. Eventually, I heard back from 3idx and was selected to interview. The interview went well, and I was offered the the internship.