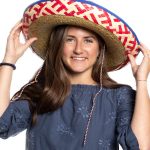 Name: Caroline Bandelin
Major & University: Major in Marketing, Minors in Psychology and Information Systems, Salisbury University
Career Goal: I aspire to connect Psychology and Marketing in ways that help me understand the clients' needs and communicate those needs effectively to my team in the future. Planit allows me to interact with clients and team members on a daily basis to hone my skills and dive into the world of advertising with both feet. I feel as though my time at Planit will allow me to hit the ground running after college because of the invaluable experience they have provided me. I can 100% see myself working in an agency setting.
What is the culture like at your internship site? Planit is a small company that feels like home. Jeans are allowed and comfort is not lost on anyone there. All of the rooms in the office are named after rooms in a house, enhancing the feeling of a relaxed workplace. Everyone is so inviting and wants me to jump into anything and everything. I have never gotten the feeling of being "just an intern." I certainly had to jump into things with both feet, but I wouldn't want it any other way. The fast pace is just another factor that allows me to get the most out of my time at Planit.
Who are the clients that you work with? Planit does it all as a full service ad agency. I have worked with a variety of clients, from commercial real estate companies to local daycare centers and everything in between. Sometimes the end user is the everyday consumer, but other times it could be another company. The end user is often determined by who the client is trying to target or what content they want. That is the beauty of Planit; there is never a typical client or end user.
Are you working on any exciting projects you'd like to share? Have you learned any exciting new skills that were unexpected? Planit has its very own coffee shop in-house called Order and Chaos. The interns have been tasked with revamping the coffee shop and increasing weekly sales which encourages us to take everything that we are learning and apply it to a real life client of our own. It is an awesome experience because it is happening in real time and will be complete by the end of the summer. This opportunity allows me to see what works and what doesn't, all while improving the skills I have learned along the way.
The number of skills I have learned in the short time since I have started is outstanding. Soft skills are very important when working with clients, making sure they are always getting what they need, but also making sure what they want is feasible. Planit has taken the idea of multitasking to a whole new level. Coordinating schedules and setting up meetings with anyone I can get my hands on is really an interesting experience. The culture at Planit has optimized my experience; I have set up meetings with the founders of the company just to pick their brains on the business and receive any advice they are willing to give. Planit wants to cultivate great relationships with everyone and they are putting as much into me as I am into them.
How did you find your internship? Did you use a career center for help with your resume?  I initially found Planit through Linkedin and later found out that one of the founders has been a family friend for years. I used the writing center at my university to help me cultivate my resume and after I had the core of it finished, I bounced it off of my mom who has been in the business world for her entire career. At the end of the internship program, Planit plans to do a workshop to help us describe our experiences at Planit as best we can.
How did you prepare for the interview? Can you share any tips for fellow students? Interviewing with Planit was not the typical cut and dry experience. There were some fun questions thrown in, such as "What is your spirit animal and how do you embody that in your day-to-day life?" I went into the interview with an open mind and concentrated on being myself. I would say bringing personality to an interview can really help you stand out from the crowd, and it allows the interviewer to determine if you are the right fit for their company.
Please share anything that you think makes a strong remote internship. While I do go into the office 2-3 days per week, about half of the work I do is online. With that being said, communication is the key to having a successful remote internship. My intern managers set up daily morning check-ins and end-of-day check-ins to make sure that I am getting the best possible experience and that I am in as many meetings as I can be. They also make sure that all of our questions are answered and check in on us as humans. They want to know if we are stressed or need a break, sometimes it's the opposite too; we chat about our weekends and catch up on our lives. Establishing mutual trust and transparency helps the lines of communication stay open and makes the day flow smoothly.