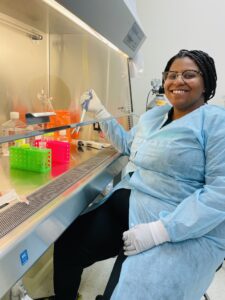 Name: Angel Boardley 
Major and College: Biology (Pre-med track) at Hood College 
Internship Title: Research Intern
Career Goal:
I am a biology major in the premedical track at Hood College and am a part of the 4+1 dual masters program where I will be starting on my masters in Biomedical sciences next spring. I am also considering pursuing my masters of Business Administration. I believe that this internship will move me closer to my ultimate career goal of becoming a surgical physician because it helps me to grow my strengths as a scientist within multiple disciplines such as molecular biology, immunology, microbiology, cell biology, genetics, virology, and tumor biology. I am also growing my strengths in business management and development as I have been given the main task of learning how to run a biotechnology company through business management and operations. I believe these business and scientific skills will help me in the future if I decide to run my own medical research or if I decide to even develop my own medical practice. I love that this opportunity helps me grow as a well rounded individual and future physician and gives me many unique skills that my counterparts in the medical field may not have.
What is the culture like at your internship site? The culture at KamTek Inc. is very welcoming and supportive. Ranging from the CEO's of the Company to the staff, everyone is very supportive, kind and always willing to help. I have had a few internship experiences in my lifetime and this is one of the most collaborative internships I have been able to participate in. From day one, while reading numerous standard operating procedure (SOP) documents, my supervisor consistently encouraged me to provide feedback on the materials. And informed me that If I believed that any aspect of the document could be improved or additional information could be included, then we could collaboratively work on making the necessary modifications together. To have the opportunity to be truly influential as an intern is rare. I am grateful for the opportunity to learn and be able to make impactful changes in the company and even in the biotech industry itself now and in the future.
Who are the clients that you all work with?  We work with many different government contracted clients such as American Type Culture Collection (ATCC), National Institute of Health (NIH), Fort Detrick and Johns Hopkins.
Are you working on any exciting projects that you want to share? Have you learned any exciting new skills that were unexpected? I have learned many new exciting skills since working at KamTek such as writing and submitting monthly business reports to clients, sending monthly temperature reports for clients freezer data, and how to run and manage project management software. I have also learned how to operate the Reese Scientific Automated Temperature Monitoring system and how to install and monitor a security system. Outside of learning new business and technology techniques and standard practices, I have also learned new techniques in cell biology such as lymphocyte separation!
How did you prepare for the interview? Can you share any tips for your fellow students?  For my interview I made sure that I knew what I was wearing in advance. I brought my iPad pro with my Apple pencil so I could take notes during the interview to show that I was engaged in our conversation and what the company had to offer. Bringing my iPad effectively allowed me to show the interviewer science projects and innovations that I was a part of and that were current to me at the time of the interview. I also own my own nannying and family planning consulting business, so I was able to show the interviewer my business contracts, my process of client acquisition process and business management process. I related those skills to the main point of the internship which is to learn how to manage and operate a biotech company.
How did you find your internship position? Did you use a career center for help with your resume? I found this internship through Handshake which is a website that helps college students find jobs, internships, and volunteer experiences. I am continuously updating my resume so it is the most accurate and up-to-date. I asked my mentor, who is a private investigator at NIH, to look over my resume and suggest any changes that she saw fit. She told me that I did not have to change much, but she did recommend a few minor changes in my wording that would be more appealing to people in the biotech/biomedical industry. I would encourage anyone to seek out support for their resume, even if you think it is perfect or have been using the same one for many years, because it is always good to have a fresh set of eyes. I would also highly recommend finding someone who is actively working in the industry you are trying to get into, because they may have a few extra relevant tips that a general career center or resume editor may not have.