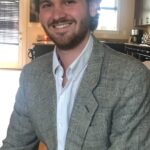 Cole Abell, Law Student @ University of Maryland
Privacy Law Intern @ Ardent Privacy
What is your long term career goal? I hope to use my legal background and apply it to the rapidly developing field of data privacy and cybersecurity. Ardent Privacy has given me the tools and knowledge to understand, analyze, and evaluate local and international privacy regulations.
What is the culture like at your internship site?  Ardent Privacy is a fast pace and exciting start up to be a part of. Working at a start-up has a lot of perks as it is a truly rare intern experience to be able to communicate directly with the executives of the company on a daily basis. Being able to work with experts in the field of data privacy and cybersecurity has been a tremendous educational experience.
Who are the clients that you all work with? Who is the end user? Ardent Privacy works with a variety of business partners and stakeholders such as Chief Privacy Officers, Chief Data Officers, and Chief Financial Officers to ensure their organizations are compliant with the newest data privacy regulations.
Are you working on any exciting projects that you want to share? Have you learned any exciting new skills that were unexpected?  During my internship, I was given the opportunity to research the privacy laws contained in HIPAA. This project was handed to me at an interesting time, since during the pandemic there has been a dueling battle between the need to quickly share health information while also protecting the privacy of patients. Being able to analyze this dichotomy from a legal perspective was an engaging and relevant research project, which I will be mentioning in future interviews.
How did you prepare for the interview? Can you share any tips for your fellow students?  Before my interview with Ardent, I took a look at their website to see what the company has recently been working on. Ardent posts weekly blog articles detailing recent events in the world of data privacy and cybersecurity. I used those blogs as discussion points to guide my interview with Ardent. I would recommend any intern, no matter what company they apply to, should take a look at the company's website and see what they have recently been working on.
How did you find your internship position? Did you use a career center for help with resume?  I found my position as a Legal Analyst at Ardent Privacy through my school's job bank. I had previously taken my resume to the career center at the law school, where they assisted me in crafting my resume and cover letter.