Sapna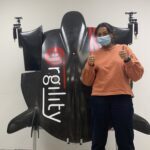 Bagalkotkar, Computer Science @ UMD – College Park
This internship is giving me such a unique hands on experience working with front end programming technologies. I have learned about skills and tools used in class but my work here gives me a platform to apply this knowledge, and grow so much more from it. I plan on pursuing a career as a software engineer in industry after graduating.
1. What is the culture like at your internship site?
The culture is very tight knit, with a small group of co workers. Specifically within the software team, I find myself collaborating almost every day with all the other members. It's very fast paced as we work on features specific for our customers, and we work prioritizing this adaptability on the front end and ability to make meaningful changes at a fast pace.
2. Who are the clients that you all work with?
I work on the front-end components, which is a tablet application, for the ability to control the drones in a user friendly way, so that clients who have never flown drones before can use our various products with ease and intuition.
3. Are you working on any exciting projects that you want to share? Have you learned any exciting new skills that were unexpected?
Right now, we are developing a seamless user interface for one particular product of ours. I've been able to learn about code organization and using AngularJS and electron JS tech stacks, and integrate those with the base HTML that forms the front end components. I have also learned a lot about ROS, the robotics operating system that allows the flow of data from the users fingertips to and from the actual product drones. All of these were unexpected and I am so grateful for the exponential level of learning I have acquired through working with these technologies.
4. How did you prepare for the interview? Can you share any tips for your fellow students?
My interview was largely based on how passionate I was about being able and willing to learn quickly, as well as show off some past projects that showed experience and passion in front end design and development. I would recommend students looking for something similar to start trying out some common open source technologies on their own, even in the most basic way.
5. How did you find your internship position? Did you use a career center for help with resume?
I found my internship through connections with the various innovation communities around campus and the discovery district. I used the career center within the business school for the template of my resume and am sure to keep it updated monthly.