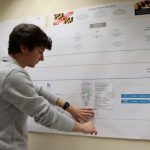 Name:Brent Bemiller
B.S. Information Systems, Web Development concentration at UMBC
Internship Site: Maryland Department of Information Technology, Architecture Analyst 
1. What is the culture like at your internship site?
Working for the state government is a lot different than working for a private company. Everything feels slightly slower. Don't get me wrong, we still get a lot of work done and do amazing things, but it doesn't feel like most people have a fire under their feet, so to speak.  The environment is great. Our office in Crownsville is the largest work environment I've worked in, so a couple months in and I still haven't met everyone. Everyone I've met has been absolutely amazing, though; very helpful and wonderfully nice. It always seems like someone is willing to help and answer the questions that I have. Also, the dress code is all over the place, it feels like. I've seen people in a button-down shirt and jeans while others wear full suits. I've been very fortunate to be able to work from home through this virus pandemic. They were able to set me up with a workstation to take home with me that allows me to still get all of my work done while staying in touch with my fellow interns and boss. There has been almost no disruption to my weekly workflow.
2. Who are the clients that you work with? 
Since I work for the Maryland State DoIT, I'm mostly focused with users on the inside of our enterprise, meaning the other employees of the state. But, my job does include representing the citizens of Maryland since one of my projects is to map out all of the IT processes to gain a better picture and help decide which processes we want to focus on and work to make more efficient, in theory, indirectly saving the taxpayer money.
3. Are you working on any exciting projects that you want to share? Have you learned any exciting new skills that were unexpected?
The two big projects I'm currently working on are: an overhead diagram of the whole state IT department and cleaning up an old database for prep to a new system. Making the diagram includes mapping out all of the processes within the IT department and laying them out in a way that makes sense to everyone within the department and out. Once this is completed, we will use this to pick out specific processes to scrutinize and find ways to make it more efficient. For the old database, I'm helping clean up bad data such as duplicate records and information that was entered incorrectly to make it easier for when the Web Services team transitions to a new database system. This database holds all of the records for notary applications that come in through the Secretary of State office in Annapolis.
4. How did you prepare for the interview? Can you share any tips for your fellow students?
This was one of my first professional interviews, so I was fairly nervous. I just kept telling myself to stay calm and be myself. My though process was: If I be myself and they don't like that then it may not be the internship for me. Good thing they seemed to like me! As far as tips go when interviewing, I suggest practicing and working out some of the basic interview questions such as "what are your strengths and weaknesses?", "why do you want this internship?", "what do you hope to get out of this internship?". If you prepare a little to get in the right mindset and be yourself, you should do just fine.
5. How did you find your internship position? 
Luckily for me, they only required a phone interview. This was great for me because it eliminated a lot of the nervousness that comes from an in-person interview and allowed me to focus better on answering the questions I was getting asked. After I submitted my application, I got a call a few weeks later from the Chief Enterprise Architect (now currently my boss) where we had our phone interview and he asked some pretty basic questions. I prepared by watching a bunch of "How to ace that interview!" sort of YouTube videos and reading up on some related articles.
I found my internship through UMBCWorks. I had been applying to as many internships as I could so I could find one for the spring semester and end up getting credit for it. A few weeks after submitting the application, I was lucky to get a call back. To prepare for the application process, I put together a resume and had it approved by the career center a few years prior. I also passed it by a few friends and colleagues for critique. On top of my resume, I also have a document with projects I've worked on over the years which I think also helped me to get the job.
6. Any other information you want to share about your experience?
I was actually pleased to find out that the State IT department hired quite a few interns to help out with everything from network architecture to social media management. This is a great thing to see because it shows that Maryland State has a commitment to investing in its youth. This allows students like me to gain all sorts of knowledge, experience, and professional connections. I'm very happy for this awesome opportunity!