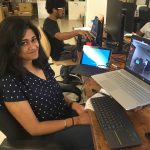 Name: Sneha Nayak, Robotics, University of Maryland, College Park
Internship Site: Autonomous Systems engineering intern at Airgility
Career Goal: I work as an Autonomous Systems engineering intern. The benefits that this role brings in ranges from building complete standalone Graphical User interfaces with our in house drones and robots, to working on controls and vision of a robot . I get to learn new things everyday, things that get me closer to my career goals.

1. What is the culture like at your internship site?
Airgility, the company where I intern at, is a fast paced start up. The work culture is pretty chilled out as long as you get the job done. You can wear whatever you are comfortable in.
2. Who are the clients that you work with? 
National Sciences Foundation SBIR phase 1 , Department of HomeLand Security.
3. Are you working on any exciting projects that you want to share? Have you learned any exciting new skills that were unexpected?
One exciting project that I'm working on is a ground rover with 50 UVC lights that is used for disinfecting surfaces. During the course of working on this project, I learned different controls and vision techniques that help the robot in traversing through the area in question.
4. How did you prepare for the interview? Can you share any tips for your fellow students?
I brushed through all the core concepts in Robotics that were essential for the interview. I had my Github and past work that I did handy, either academically, professionally or just out of interest.
5. How did you find your internship position? 
I got in touch with my current CTO, and sent him my resume. Mentioned all the things that I've worked on in the past.  Yes, I did receive help from the Career Center for my resume. They helped me change it and make it look more appealing to recruiters.
6. Please share anything that you think makes a strong remote internship.
Constantly communicating with your manager to know what is required of you and to make sure you meet deadlines.
Remote internships can make it a bit hard to wake up early and to have a proper schedule. But you just have to remind yourself of why you are here in the first place and make sure you stick to your schedule.
Remote internships can also help save time that is lost in travelling to work. Utilize this extra time to get things done.