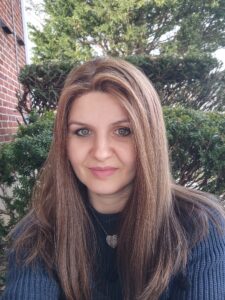 Name: Dina Datsenko
Major and University: BA in Liberal Arts, Secondary BA in Cyber Security at Thomas Jefferson State College
Internship Title: SOC Analyst Intern @ Maryland Department of IT
Career Goal: An internship at MDSOC will help me gain hands-on experience of what it's like to be a front line/first responder in defending an organization's network.
1. What is the culture like at your internship site? 
I find it to be a very pleasant environment to work in. Coming in as an intern I find everyone ready to help whenever I have questions or don't understand something. My coworkers and managers are very accepting and accommodating. Most people dress in suits, but some come in casual clothing as well. I find it to be a relaxed, yet professional environment and I have learned a lot in the short period of time I have been there.
2. Who are the clients that you work with?
The clients we work with are other Maryland Agencies across the state, so, at times, it
gets busy.
3. Are you working on any exciting projects that you want to share? Have you learned any exciting new skills that were unexpected?
Everything is exciting here at the SOC. I have earned cyber security certificates before the intern position and now, having the opportunity to practice everything hands-on, it is a very exciting experience for me.
4. How did you prepare for the interview? Can you share any tips for your fellow students?
I've had quite a few interviews prior to the SOC Intern position interview. One of my first pieces of advice would be to have as many interviews as possible to rehearse for that one interview that might change your life.
Other advice I would give is to not only be prepared to answer technical questions but also to think about some personal questions that help recruiters understand who you are as an individual. For example, what, in your opinion, makes you stand out from other potential candidates, what are your weaknesses and what are your strengths, or give an example of a stressful situation and explain what your potential course of action would be. I found that knowing answers to these and similar questions helped me feel more prepared and confident at an interview.
5. How did you find your internship position? Did you use a career center for help with your resume?
I found my current internship position by word of mouth/networking. I have done a lot of
networking through social media; however, what led me to the current role as a SOC Analyst was a conversation with a friend of a friend.  In my opinion any type of networking is great, opportunity might come from a place one was not expecting. In terms of my resume, I have not seen a career center for help but I definitely asked people I thought were knowledgeable to help me improve and revise my resume.
6. Please share any other tips or advice. 
I like that at my organization coming in as an Intern I didn't feel a strong separation of power and intimidation from higher tiers or people who were here longer than me. One part of my onboarding processes was to meet with teams in all departments within my organization. I thought that it was a great way to welcome a new hire and help them feel comfortable knowing who everyone is.