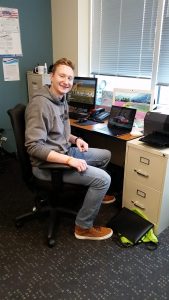 Name: Christian Lostoski, University of Maryland, Baltimore County, Computer Engineering
Internship Site: Que Technology Group
Career Goal: My career goal is to be able to work on the development of new computer systems. Either in the private or public sector.
1. What is the culture like at your internship site?
The culture at Que is relaxed but professional. It is a rather small site with interns working in the same office as the HR department, that being because we work directly with/for them. The two people who work in HR make the atmosphere very comfortable. They treat everyone almost like family. There is no expected dress code for interns so casual dress is acceptable.
2. Who are the clients that you work with? 
Interns do not work directly with any clients, however QTG is a contractor for the government and so the end user would be the government
3. Are you working on any exciting projects that you want to share? Have you learned any exciting new skills that were unexpected?
I am currently doing research on the development of new technologies. To be more specific the introduction of 5th generation phone networks. This is something that fascinates me, even though it not too closely related to my major. This internship has helped me improve my technical research and comprehension of material.
4. How did you prepare for the interview? Can you share any tips for your fellow students?
This was one of my first professional interviews, so I was fairly nervous. I just kept telling myself to stay calm and be myself. My though process was: If I be myself and they don't like that then it may not be the internship for me. Good thing they seemed to like me! As far as tips go when interviewing, I suggest practicing and working out some of the basic interview questions such as "what are your strengths and weaknesses?", "why do you want this internship?", "what do you hope to get out of this internship?". If you prepare a little to get in the right mindset and be yourself, you should do just fine.
5. How did you find your internship position? 
This internship was suggested to me by a close relative, who had done the internship a few years earlier and enjoyed his time doing it. For my resume, I got help from a close friend who happens to work with other students preparing for college, and resume writing is part of that job. There are a multitude of learning opportunities and QTG encourages all interns to go to talks and events from important people in the tech world, that are located on campus. They also encourage interns to do research on topics that interest them, and if they find a topic with a decent amount of material on it, they can even suggest it for other interns to read.