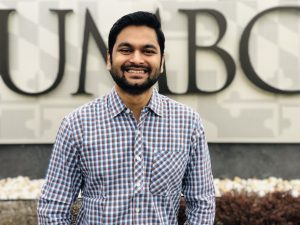 Maryland Technology Intern of the Month:
Ashish Shadrak Deo
Graduate Student – Computer Science – UMBC
Check out his internship @VectorWorks
What is your career goal in the short term?
To obtain the best career opportunities for personal and professional growth in the future and work in a challenging environment. To expand my learning curve in order to adapt to up-and-coming software technologies.
What is the culture like at your internship site?
The work culture at Vectorworks is not only very fast-paced and challenging, but also very friendly. Employees encourage each other to be free to approach anyone with questions about their work. Employees can wear whatever they are comfortable in, including denim or T-Shirt. On the technical front, every team has a daily scrum (status) meeting to keep track of project progress. There's also an open forum for the team to share experiences regarding challenging tasks and critical issues.
Who are your clients
Since Vectorworks is a product-based company for Design (CAD-BIM) Software, they have numerous customers across the country and around the globe in three industries: architecture, landscape design, and entertainment.
What exciting projects are you working on?
As a part of my internship project, I'm working on a desktop application for Vectorworks Cloud Services. With this project, I had an opportunity to hone my skills on the latest programming technologies and frameworks such as ReactJS, GraphQL, NodeJS and Electron.
How did you prepare for your interview?
By reviewing core programming concepts and practicing various online coding challenges on web tools like Hacker-rank.
How did you find your internship position? Did you use a career center for resume help?
I found and applied for this job through a career fair. The Career Center at UMBC was a great help to review and make suggestions to my résumé to make it descriptive, concise and effective.
Anything fun or interesting about your organization that you want to share?
Vectorworks has an uber cool and fun work environment. There are lots of events throughout the year like our CrabFest, Launch Party, OktoberFest, Halloween event, etc. Since the time I joined, we have had an event every 25 days. The most exciting part is the lunch session every Wednesday, where we get to connect with people from different departments across the company. It's a great way to network and socialize with important people, since the Columbia office is the headquarters for Vectorworks. And let's be honest..who doesn't love free food!