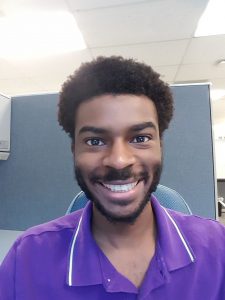 Name: Bartholomew Allen Computer Science, Senior, Towson University
Internship Site: UPS – Timonium, MD
What is your Career Goal:Career Goal: Full-Stack Developer. Also to work for a company where my solutions and views can have a major impact on others in a positive way. UPS is a company that will be able to fulfill my need to write software that has a major impact on optimizing time for delivery drivers and cut costs on gas/mileage.
What is the culture like at your internship site?
UPS culture is very family oriented, everyone makes you feel at home and as though you've been a part of the company for years. It is a pretty big office, but not overwhelmingly big. I find it easy to navigate the building and locate the people/resources that I need. As far as attire, its business casual and yes, we can wear jeans!
Are you working on any exciting projects that you want to share?
For the project we are mainly working with the delivery drivers to ensure we minimize the number of send again that are accumulating at each Risk Level 4 address or location.  We are producing a system that can save the company money for undelivered packages as well as minimize claims being submitted in certain locations. In order to work on the project, I had to familiarize myself with basic Data science tools and terminology on top of learning python for analyzing the data we were using. One unexpected skill that I learned was using excel to clean/organize huge data-sets.
How did you prepare for the interview? Can you share any tips for your fellow students?
Fun fact, I am a returning intern from last year but when I first interviewed I was calm and totally being myself. I answered the questions as best as I could, and made sure to be humble with my soft skills. Most people don't realize how important it is to have good soft skills. My advice is being yourself and honest with the people interviewing you. Try to make everything into a conversation instead of just trying to answer questions.
How did you find your internship position?
Yes, so I found the internship through Towson's career fair Fall 2017. In preparation for the fair my career center certainly helped structure my resume and clean up any incorrect information and formatting issues.
Anything fun or interesting about your organization that you want to share?
Yes, every year they hold their own hackathon in their New Jersey Facility (that was recently remodeled) where we have challenges to choose from in order to propose real business solutions that will help the company. They also have many volunteer opportunities that many people within the building participate in because we love to give back to the world!