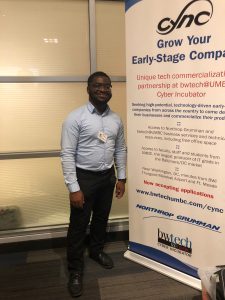 Maryland Technology Intern of the Month: Nome Iyayi
Information Systems major, senior at UMBC
Check out his internship @UnitedWorldTechnologies
What is your career goal in the short term?
My career goal is to own my technology company that will be working to make advancement in existing technological devices to make lives easier and/or better.
What is the culture like at your internship site?
I intern at United World Technologies, a technology export-assistance
consulting firm. The company culture is set up to give its employees all around development. Our president, Paula Kipperman, gives us tasks even if it is not related to our specific job titles, because she knows that the skills would definitely help us
in the future. It is a small company, but we have big partner companies in Russia and Ukraine. We are constantly looking to bring in new clients, so there is always work to do. Our dress code is business casual, but professional if we are hosting a client.
Who are your clients?  We help US companies export their software (if it is innovative and unique) to overseas businesses, mostly banks and financial institutions.
What exciting projects are you working on?
I am learning about cyber security with MetaDefender. I am also learning to use Adobe Character Animator.
How did you prepare for your interview?
I prepared for my interview by reading about the company on the BWTech website and on their website as well. I had many email conversations with Ms Routzahn, the career center director and she was really helpful. I also read articles on Big Interview's website.  I was able to get my internship through the UMBC career center I am forever
grateful for the program and for Ms Routzahn, who helped me through my interviews and finding the right company. I had visited the career center last year for resume help.
Anything fun or interesting about your organization that you want to share?
We eat together! We try to foster a communal feeling within the office and as we are a small company, it is important to get to know each other and to be open to improve our working relationships.