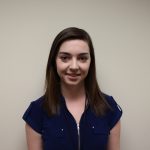 Name:  Rachael Sanchez
University of Maryland, Baltimore County (UMBC), Dual-major in Business Technology Administration & Media and Communication Studies
Internship Site: Maryland Department of Information Technology
Career Goal : As I am looking to pursue Digital Marketing for a career, this internship will help me move closer to that goal as it is centered around digital media, which includes various graphic design software, social media analytics, as well as elements of writing and networking.
1. What is the culture like at your internship site?
Being a government organization, I came in with the impression that it would be constant work all day, every day; however, to my surprise that was not the case. Of course, everyone worked very hard and were constantly going from one project to another, but the office was quieter and more relaxed than expected. The culture is definitely different compared with other internships I've had, as everyone has a more professional demeanor and was dressed business formal but still were very friendly and shared jokes and stories whenever the opportunity arose. I felt welcomed by everyone pretty instantly.
2. Who are the clients that you work with? 
The mission of the Maryland Department of IT is to provide vital technology solutions that allow the Executive Branch, State Agencies and Coordinating Offices to provide Marylanders with services that enable them to live and work more safely, efficiently and productively.
3. Are you working on any exciting projects that you want to share? Have you learned any exciting new skills that were unexpected?
I've been able to do a variety of things with MD DoIT, from content creation for social media to revising press releases. But a majority of my focus has been on social media (Facebook, Twitter, LinkedIn). I've been working hard to increase MD DoIT's social media presence by posting frequently and consistently and tracking various insights taken from analytical data to see what audiences I'm successfully targeting. In addition to posts, I have been creating various graphics to help "freshen" up the platforms, boosting employee morale by assisting with an 'Employee Spotlight' feature, and creating a monthly newsletter. I have been able to further develop my skills with Adobe products like InDesign and Premiere as well as increase my exposure to photography and videography.
4. How did you prepare for the interview? Can you share any tips for your fellow students?
As I've done multiple professional interviews prior to this, I honestly can say that the #1 best piece of advice I could give is to just be yourself and be confident in what you know (and don't know). The interviewer just wants to get to know you and what your interests are. But of course, in addition to being confident, you should make sure to do your research on the company, including any latest news.
5. How did you find your internship position? 
I found my internship position through the MTIP program. I received an email from the coordinator about an opportunity that aligned with my experience and proceeded to apply on UMBCworks. I had previously gone to the Career Center to have my resume reviewed by a specialist, so I was good to go! After a few days, I was invited to interview on campus and was given an offer shortly after.