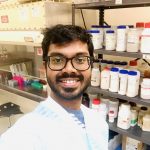 Sesha Charan Pasupuleti, Chemical and Biomolecular Engineering, Johns Hopkins University

Career Goal – how will this  internship move you closer to your career goal?
To become a scientist and an entrepreneur.
1. What is the culture like at your internship site? 
The internship I am doing at is a small company which allows me to know all the activities happening around, learn how to grow a company and also learn to deal with change and challenges.  It also helps me gain more skills as a scientist, created a sense of responsibility and produce tangible results within a deadline. It's a small company, I am free to wear what I want but as I work in a lab, it's not allowed to wear shorts. It's a fast paced company.
2. Who are the clients that you all work with? 
We are developing a drug against Clostridium difficile bacteria, the end users are patients who got infected with the bacteria.
3. Are you working on any exciting projects that you want to share? Have you learned any exciting new skills that were unexpected?
Yes, I am working on finding mutants of Clostridium Difficile against Clofazimine, an antibiotic drug.  I have learned organization and storage of data generated, which was an area of growth for me.  As it's a novel project, every day is an exciting journey to find new results and redefining the facts.  The company provides a friendly environment which has allowed me to explore and experiment to try new things.
4. How did you prepare for the interview? Can you share any tips for your fellow students?
Before the interview I went through the company website and learned about the company and their focus areas, mission and goals. I analyzed what I would bring to the company and my value based on my skills and what the company is trying to do.
Tips:
1. Be true to who you are and focus in the interview and also on your resume.
2. Be confident in your answers and precise.
3. Prepare your answers for some sure shot questions like "Tell me about yourself, What are your strengths and weaknesses, Why this company etc"
4. It is ok to say I don't know the answer or I need time to think about this.
5. How did you find your internship position? Did you use a career center for help with your resume?
I found about this internship on Indeed.com and the Johns Hopkins Life design lab reviewed my resume and made good suggestions.