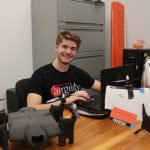 Jacob Holland, Marketing and Supply Chain Management Double Major at the University of Maryland, College Park
Career Goal – how will this internship move you closer to your career goal?
As a rising sophomore, I am unclear as to what my career goal is. However, the amount of individual responsibility and accountability I have had to take on during this internship has helped clarify what I value in a work environment and what it takes to be successful in a field of work. I have been taught valuable lessons regarding work ethic, teamwork, and education that will all help me reach my career goal, whatever that may be in the future.
About your internship and the organization:
1. What is the culture like at your internship site? 
At Airgility, we have a very team oriented culture that focuses on collaboration and innovation. Because of this focus, we have adopted a very casual and comfortable culture that allows each intern and full-time employee to not only feel valued, but also confident in their position on the team. With a small yet rapidly growing team, this has allowed our cultural values of teamwork, innovation, and collaboration to excel.
2. Who are the clients that you all work with? 
At Airgility we created unmanned aerial robotics with the greater goal of public safety. Our clients include a variety of governmental and commercial agencies, primarily focused on practices surrounding search and rescue, disaster recovery, security, inspection, defense, and many more. At the moment, our end user fits these guidelines and falls under the defense and security markets. However, with our most recent developments and ever expanding team, we are excited to begin looking more into other avenues of work using our unparalleled artificial intelligence systems.
3. Are you working on any exciting projects that you want to share? Have you learned any exciting new skills that were unexpected?
Before starting this internship, I knew absolutely nothing about the aerospace industry, especially being a declared marketing major. However, after spending time with the Airgility team and learning more about the growing markets in which they operate, I came to appreciate a unique skill that every student should work to develop. Being adaptive, flexible, and open to learn is extremely important for those starting out their career. In one way or another, all industries overlap, making it especially important for interns to be adaptable. One exciting project that we are working on right now is a unique ground robot that is capable of autonomously navigating an environment while cleaning surfaces of harmful substances, such as COVID-19.
4. How did you prepare for the interview? Can you share any tips for your fellow students?
This interview happened to be the first interview I had participated in over the phone. While I was not quite sure what to expect, I did my best to keep a calm mind going into the interview and focusing on letting my values as a student and intern shine through. I was fortunate to have an incredibly honest and easy-to-talk-to interviewer, which definitely helped in the interviewing process. The advice that I would share to my fellow students is to enter the interview being confident in your own abilities, but avoid being cocky. If you are confident and able to clearly display what you value, the interview will be nothing but productive, even if things don't work out for that position. At the same time, it is important to be respectful of others applying for the position, understanding a balance between your own confidence and the company's current needs. Finally, and maybe most importantly, be friendly. Interviews should not be one sided experiences with just questions and answers. Have a real conversation with your interviewer, make them smile, make them laugh.
5. How did you find your internship position? Did you use a career center for help with your resume?
I found my internship through a professor in the Robert H. Smith School of Business. Before even deciding which college I was going to attend, I had reached out to this professor to learn more about the school and my field of interest. Since then, we have kept in touch and I came across this opportunity through their network. I did not use a career center for helping me build my resume. While they can be extremely helpful for some students, I personally believe that everything on my resume, cover letter, and portfolio should be in my voice and created 100% by me.
6. Please share anything that you think makes a strong remote internship.
While it may be a cliche answer, it is essential for organizations to maintain a strong line of communication. Whether in a remote or in-person internship, it is important for interns to feel valued and heard, especially when working for a startup. Airgility has not only kept incredible communication with me over the course of my internship, but they have also allowed me to find my own place within the company's culture. Ultimately, this sense of inclusion and company worth is what makes a strong remote internship.