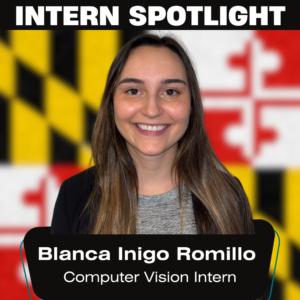 Name: Blanca Inigo Romillo
Major and College: Master's in Biomedical Engineering at Johns Hopkins University.
Internship Title: Computer Vision Intern
Internship Site: Vectech, Inc.
1) Please tell us about your Career Goals.
My goal is to lead innovative industry projects by applying my research and technical expertise to drive advancements in the field of computer vision and medical imaging
2) Tell us about your internship (i.e. day-to-day responsibilities, special projects/clients and work culture)
On a daily basis, I design and develop solutions for AI techniques to improve vector control and thus, help avoid the spread of some diseases. I combine research, creativity, and hands-on experience to improve the performance of our classification model in mosquito identification. I created a feature extraction method that inserts color information to achieve more accurate predictions. Moreover, I am evaluating the potential of our model to detect malaria vectors.
3) Describe the process of obtaining your position. When did you hear of the position and submit your application?
I heard about the position through LinkedIn (Around the end of February) and I submitted my application through the same platform.
4) Which of the following resources did you use to find your current experience?
LinkedIn /Other Social Media
5) What have you enjoyed the most about your position or organization?
One of the things that I enjoyed the most about my experience was the multidisciplinary mentorship which enabled me to gain exposure to various functions within the company. Moreover, as an intern, I was encouraged to adopt an entrepreneurial mindset and to actively contribute with my insights and contributions. I really appreciated taking on significant responsibilities and projects that could have an impact on the company's growth. In conclusion, I mostly enjoyed the opportunity to be independent and impactful while receiving constant feedback and valuable advice from experienced professionals.
6) How do you believe you have made an impact through your work?
I believe my color attention method has proven to be very useful in enhancing our classification model.
7) What advice would you give to another student who is seeking an internship or similar experience (i.e. Internship search, Resume or Interview tips)?
I recommend exploring smaller companies and startups, as they offer transformative experiences that provide valuable skills, exposure to unique challenges, and preparation for a dynamic and impactful career in the industry. Prioritizing networking by connecting with alumni or individuals who share similar interests is also a valuable strategy. Moreover, tailoring your resume for each opportunity can significantly enhance your chances of success.