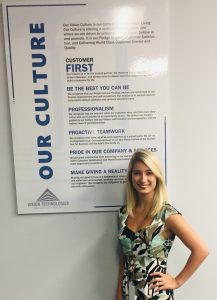 Name: Amy Von Ludwick, Business Administration (Concentration: Marketing); Towson University
Internship Site: Vision Technologies Inc.
How has this experience helped you get closer to achieving your career goal?
This internship helped me gain professional experience necessary to put into practice the theory and concepts I have learned in the classroom. I was able to explore the Marketing career path throughout my internship, which allowed me to formulate valuable contacts for future networking and help me realize my goal of becoming a CMO (Chief Marketing officer). This internship has provided me with newly developed self-confidence and independence that I can project in both my classroom and at work.
What is the culture like at your internship site?
Vision's culture encompasses the efforts and actions that the company, our leaders and our teammates take to create an environment where our people are proud and work together proactively as teams. We are committed to building a company that is second to none, that is based on professional behavior, a common belief system and shared values.  Our culture enabled us to build a best-in-class Technology Integration Company focused on complex IP-centric Solutions for all our business units, and to provide our Customers and Channel Partners with a unique choice of having one company support all their Critical Infrastructure and Technology needs.  At Vision Technologies, we recognize our responsibility to ensure we deliver world class customer service and quality on every opportunity to perform. Our job is to support our customers, before, during and after the engagement. Our goal is to build loyalty by providing the best technical solutions and professional services to address our customer's needs, and to provide a positive working environment, that allows our customer, our company and our employees to succeed.
Who are the clients that you all work with?
Official AV partner of the Ravens
Whiting-Tuner
CommScope
Corning
Graybar
Discovery Channel
Microsoft
University of Maryland
Northampton county etc.
Are you working on any exciting projects that you want to share?
Over the past year Vision Technologies has been in the process of a re-branding. They updated their logo and received a trademark for it. Since then, they have been in the process of updating everything at the company and switching out the new logo. I have been helping my supervisor update collateral pieces for each of our business units at Vision. I have been working on 6 pieces; Mobility, Security, Professional Services, ITS, Audio Visual, and Managed Service Center. I sit down with each business unit manager and pull out the most important key capabilities of the department. I am then able to put together a piece that showcases each business unit for the company to use as a sales piece to show customers.
How did you prepare for the interview? Can you share any tips for your fellow students?
At Towson University, students can participate in mock interviews to help them with real world interviews. They will critique how well you did, and work with you on how to improve. I was able to participate in the mock interviews twice. Some advice I would give to students would be:
Know the company well before interviewing with them; you can do this by doing some background research beforehand.
Clarify your "selling points" and the reasons you want the job before the interview
Prepare questions for the interviewer (it's always good for you to ask questions too!)
Practice, practice, practice!
How did you find your internship position?
I found my internship by networking through close friends. This allowed me to get insight of the company easily, and thoroughly.
Anything fun or interesting about your organization that you would like to share?
Honestly, in the beginning I was only applying for the internship to fulfill a requirement through Towson University. But after working at Visions for months I am realizing that it was one of the best decisions I have made for my career. The opportunity to use my skills in the real world, in the field I am studying is remarkable. I am looking forward to continuing my career through Vision Technologies after I graduate college.